Isn't it long overdue for offices to no longer be dull? When everything is evolving at a faster pace, why should your work office stay traditional?
If you plan to redefine and redesign your modern office, this article is for you. Here, we will explore exciting modern office space trends that should be on your watchlist.

Open and flexible layouts
Don't you think it's important for workspaces to be spacious and flexible? Allow your office to be open to allow for ample walking space. Your employees deserve to move around a bit after being slumped on the work desk for hours. An open office layout helps.
A flexible office layout in McAllen, TX, includes work desks that are not fixed but flexible. Modern office furniture is foldable, rollable, expandable, and easily moveable as per the changing needs of the workforce.
The flexible workspace also makes it easy to adjust when more employees are hired in the future. You can make your workspace more agile, dynamic, and easy to breathe in with flexible layouts.
Wired with the latest technology
Is your office still using old projectors for presentations and meetings? It's time to adapt and take advantage of smart technological advancements. Surely, integrating new technology may initially feel intimidating, but it gradually becomes necessary.
The benefits of integrating technology and collaboration tools into the workplace are long-lasting. Everything becomes more manageable and easily accessible.
Interactive whiteboards, smartboards, modular switches and plugs, and wireless charging stands are some of the ways to incorporate technology into modern office design.
Apart from this, you can use AI tools like workflow applications, change management tools, video conferencing tools, and multimedia tools to step up your game. All these applications make use of AI and automation to raise your productivity. These tools can be easily integrated with one another. This means you can use a workflow automation tool with videoconferencing. For instance, you can create automated workflows in one tool like Asana and simultaneously communicate the tasks with team members with the help of Zoom.
Biophilic elements
Adding color and liveliness to the workplace enhances productivity. In fact, researchers from Cardiff University's School of Psychology have concluded that lean offices with plants increase workforce productivity by 15%.
It quotes, "Our research suggests that investing in landscaping the office with plants will pay off through an increase in office workers' quality of life and productivity."
This is a reason enough to focus on office landscaping. Some ways would be to add indoor plants in corners, near windows, and beside work desks. Low-maintenance indoor plants like snake plants, ZZ plants, peace lilies, and spider plants can even be put on the work desk.
Other ways to incorporate biophilic elements include installing moss walls and vertical landscaping. Adding a mini waterfall can also imbibe freshness, positivity, and good vibes.
Multiple collaboration zones
Traditionally, the only way to collaborate with team members was to attend the conference at a fixed time. While that's most effective for making big decisions, open collaboration spaces like huddle pods, hot desks, and couches are also becoming popular. Communication in such informal spaces turns out to be more spontaneous.
Such spaces encourage quick brainstorming at random moments without being forced to generate ideas. Having such conference spaces at modern offices is also beneficial for team members to take a quick break and relax before returning to work.
Modern-day workspaces also have a separate break room, which is a great place for creativity to flow naturally. Such 'break rooms' are equipped with indoor sports options, a coffee station, a quiet room, a library, and even a snack bar wherein employees can take a break from work within the office.
It's said that most ideas come to you when you least expect them to. 'Break rooms' can, therefore, be a great collaboration zone for workers to hang out and let their creative juices flow.
Standing desks
A mixture of ergonomic workstations is a new office trend. Rather than just having cubic working desks separately, the presence of the sit-stand or standing desks is now the talk of the town for all the right reasons.
A lot of people feel comfortable working on a setup consisting of standing desks with high chairs. Just like no one shoe fits all, cubic workstations aren't comfortable for all. Therefore, having a combination of different types of ergonomic equipment in the office makes the place more accommodating. The sit-stand desks act as solo workstations and are a great place for quick discussions.
The standing desks are also perfect for laptops and are fitted with docking stations. You can also choose standing desk converters that can be adjusted as per the user's height and comfort.
To take a step ahead and make the office space more flexible, using different combinations of lighting types helps create a unique environment for each employee.
Smart storage solutions
This feature usually gets overlooked when looking for an office. However, new-age trendy offices have smart office storage solutions that are worth it.
The storage spaces are well integrated into the furniture itself. You can contact builders in McAllen, TX, to know more about smart storage options.
You can have a designated storage room, have stacked storage cabinets, use under-desk storage, have floating shelves, or use space under a sitting area; the possibilities are endless.
Modern-day office designs focus on investing in multifunctional pieces, keeping things tucked away, and, at the same time, making the most of the office space without making it look too cluttered.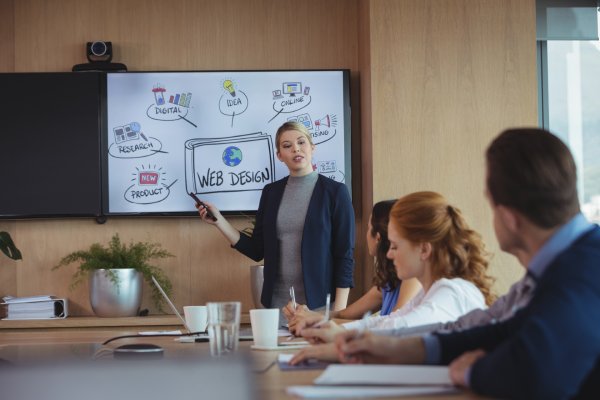 Hybrid environment
Some corporate employees are still switching between remote work and in-office work. Offices have, therefore, come up with hybrid work models that ease the task of working remotely. The offices are designed to hold video conference calls to connect with employees worldwide. Thus, use smart technology to create a balance between employees working remotely and in the office.
Companies have also switched to hiring gig workers for small tasks, thus eliminating the need to hold elaborate hiring and boarding processes. Thus, trendy office designs help you redefine your office to facilitate easy communication with remote employees.
Your Turn
Undoubtedly, modern designs have refined the offices to a whole new level. Modern offices are more accommodating and comfortable. From ergonomic seating to collaborative spaces and landscaping to flexible layouts and hybrid environments, the latest office trends focus on inclusivity, accessibility, and better work-life balance.
You can also embrace these modern office trends and create a space that oozes productivity, vibrancy, and positivity. The key is to communicate your requirements well, whether you are working with a home builder or a commercial space builder.
That said, if you are looking to redesign your office or design a fresh space for your office, Liongate Builders is here to assist you. Contact us today to learn more.